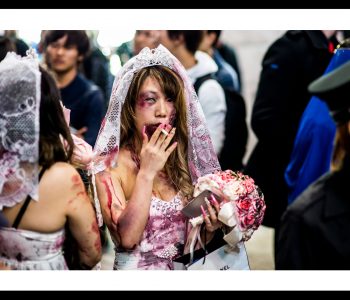 Halloween at Shibuya Crossing
Japan is getting bigger and more exciting every year. In 2015 Halloween was on a Saturday, people started dressing up and going out Friday night. Halloween in Japan was an multi day long event. Many of the roads became pedestrian only walkways. People were dressed up, walking around the streets, and taking pictures. Cosplay and costumes are not just for otakus anymore. Many people do group costumes from popular anime series.
There were many police officers at the famous Shibuya Scramble Crossing. They were guiding the thousands of people across the street before the traffic lights turned. On Monday, Halloween Day, there were so many people and it was hard to walk fast. Walking through the center of Shibuya took twice as long as usual.
shot with Nikon D610, 35mm lens
© Breuer Photos 2014 – 2017
The reproduction, publication, modification, transmission or exploitation of any work contained herein for any use, personal or commercial, without my prior written permission is strictly prohibited.